This post was most recently updated on December 16th, 2017
So, you need a UK spouse visa and you've have even attempted navigating the UK government website. If this is your current situation, then you will probably agree that getting around to finding the information you need to suit your specific circumstance can be a bit of a hassle. The challenge isn't restricted to information on UK spouse visa alone, and you certainly aren't alone in your confusion.
This article will provide you with sufficient information on the subject. From the documents required for processing to financial requirements and processing time. And considering the UK authorities do not provide phone support to answer any of your questions – you'll find the information revealed in the article quite valuable. For this, you would not need an invitation letter
First –
What is a UK Spouse Visa
Otherwise known as the Settlement Visa, a UK spouse visa is a type of visa suitable for a spouse or legally recognized civil partner of a citizen or legal permanent resident of the UK. Thus, individuals are only eligible to apply for a UK spouse visa if their UK based spouse is either a citizen or is permanently resident in the UK, such that they have no time limit on their Visa
Spouse Visa UK requirements 2017
Although there are rarely dramatic changes in the requirements for a UK spouse visa; a few tweaks are made every now and then. So, it is important that you look for the most updated list of requirements and make a checklist of sorts with them. You certainly don't want to get denied a visa on the basis of something you didn't even know was a requirement.
In this light, there are a few requirement categories to consider; they include those listed below; bear in mind however, that a few of the requirements are subjective and require proof to demonstrate that your suitability for the visa
Relationship Requirements
In order to be considered for a UK spouse visa you must be married to, or in a civil relationship with a citizen or legal permanent resident of the UK. And the union must be recognized according to UK laws. You must also intend to live as husband/wife or partners subsequent to your arrival in the UK.
Overall, the couple must each be at least 18 years old and must have substantiated evidence of the genuineness of the relationship.
UK Spouse Visa Application Form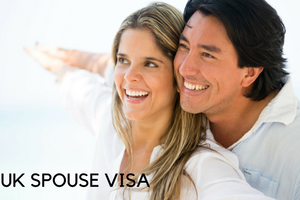 To access a UK spouse visa application form, you have two options –
Go to the UK government site, and on this page select from the list of UK visa, immigration and citizenship application forms the form that applies to your situation.
The UK spouse visa application form (as well as other forms related to processing) can be found under Forms for a visa to come to the UK and Forms for application to settle. However this option is most suitable for people who cannot apply online and want to go to the UK
A second option would be to apply online via the new UK visas & Immigration website. This would require that you sign up to the Visa4UK system and online application forms. It will also enable you to view previous applications. At the time of writing this however, the new UK application website was still
UK Spouse Visa Document Checklist
The documents listed below are the main documents for UK spouse visa processing. However, the requirements may vary depending on circumstance or nationality of the applicant.
The complete visa application – either the VAF4A form or online submission
Travel passports – with at least one blank page, and 6 months before expiry
A passport sized photograph
Evidence that the applicants meets the English-language requirements
Documentation that validates the spouse residency status in the UK – including their visa or citizenship status.
Information about your finances – including stamped bank statements, pay slips, tax returns etc. (see spouse visa UK financial requirements
Details of the UK accommodation where you will both be living and its suitability for more than one.
Full-health examination results. These may also include results for specific tests for diseases local to your country.
 Spouse Visa UK Financial Requirements
Take note that the spouse visa UK financial requirements are subject to alteration, and are often revised. Nonetheless, this should provide insight to what the expectations would be –
More often, it is the UK spouse whose savings and/or employment is under scrutiny, because it is most relevant to UK spouse visa applications. However there are instances where the sponsor's income abroad can be relied upon, especially if the applicant is also in employment in the UK or if the applicant has access to savings in excess of £16,000 which can be combined with the eligible earnings to meet the financial requirement. In this case applicant's finances may also be considered
According to immigration rules, the minimum income that must be met by the UK based spouse, sufficient to cater for the needs of the incoming partner is a gross annual salary of at least £18,600. The income may be the result of salary or self employment, pension of either the applicant or the UK based spouse, benefits or other specified income sources of either of the spouse. In the absence of a salary-employment that totals £18,600 in earnings per year, they must present Cash savings of at least £16,000 held for six months combined with the income from salary employment, and a cash savings of £62,500 where there is no income at all.
If you are applying from within the UK,

You may be able to obtain Spouse/Marriage visa without having to meet the financial requirement. You will, however, need demonstrate that there are insurmountable obstacles to your return to your country of origin with your partner. If successful, you will be put on a ten (10) year route to settlement requiring an extension of stay every two and a half (2.5) years. The amounts required to meet the financial requirement are;

Applicant alone £18,600
1 child in addition to applicant £22,400
2 children in addition to applicant £24,800
3 children in addition to applicant £27,200
An increase of £2,400 for each additional child.
On the occasion that the applicant wants to relocate with children
The financial requirements are of course influenced greatly. The amounts required are thus –take note that for the applicant alone financial requirement is £18,600
1 child in addition to applicant £22,400
2 children in addition to applicant £24,800
3 children in addition to applicant £27,200
An increase of £2,400 for each additional child
In addition to monetary requirements, the applicant also must demonstrate that the UK based spouse  can provide adequate accommodation without resulting to public funds, taking into consideration that the said accommodation must not breach health regulations and will not result in overcrowding if the applicant is granted the visa. One room will be sufficient for use of both the applicant and UK based spouse, that is – given that there are no children involved. If there are however, the children will also need to be accommodated adequately in compliance with the applicable regulations. Notwithstanding, even a living room will suffice for applicant and their UK based spouse.
Exemption from Financial Requirements
If the applicant or UK based is receiving a disability allowance, or a specific severe disablement allowance, Industrial injury benefit, Attendance allowance, Carer's allowance, Police Injury Pension; then the financial requirement may be waived. The couple, however, will have to provide specified evidence that the settled partner is able to maintain and accommodate themselves. 
Currently, family and spouse visas cost £1,195 and the fee for Adult Dependant Relatives is up to £2,676. The fee for a settlement application within the UK  is also £1,875
Spouse Visa UK Processing Time
The average processing time for a spouse visa application is 2 – 12 weeks from the date the submission is made. Processing times vary depending on the country where the application is made
Apply To Join Family Living Permanently In The UK
If you want to relocate to live with your family in the United Kingdom you can apply to 'Join Family Living Permanently in the UK.  Applicants can apply to Join Family Living Permanently in the UK if their family member is a British citizen, settled in the United Kingdom permanently or has humanitarian protection or asylum in the United Kingdom.  If their family member meets the aforementioned requirements, applicants need to meet the following eligibility requirements to secure a Join Family Living Permanently in the UK:
Age 18 and over, unless they are a child
The relationship to the family member should be recognized in the country such as a legal marriage license from their country
They want to live with partner or family member in the UK after they apply, unless they are a parent who has contact with their child
Their family member can offer them with adequate accommodation to reside in the UK
They can speak, write, and understand English, unless they are an adult dependent family member or under 18:
To be eligible for a "family of a settled person" visa, applicants must live outside of the European Economic Area or Switzerland. Furthermore, the Home Office may reject an applicant's application based on a criminal record in either the United Kingdom or another nation and incorrect or incomplete information.
Applicants will need to submit the following documents:
Valid passport or travel documentation
Old passports
Evidence of relationship status with the person they will be joining in the UK
Evidence they can meet the maintenance or financial requirement
Proof they can understand, speak, and read English, if they are 18 or older, unless they are an adult dependent family member
Tuberculosis test results if they belong to a country where taking the test is mandatory
Finally
it is often advised that you seek the counsel of a legal adviser or at least their or initial assessment to determine your eligibility. They are best positioned to look into your matter in detail and explore all the possible options so that you can avoid repeated disappointments.
One of the most frequently made assumptions for instance is that provided you have a spouse in the US you are eligible for a 'spouse visa'; in reality however – the visa obtainable is dependent on the spouse circumstances in the UK
Thus, if your spouse in the UK is  either British or naturalized, a 'settled person' in the UK with indefinite leave to remain or you both were married in the UK and intend to live there; the appropriate visa is considered a 'Family of a settled person' visa.
If however, the spouse is a EEA national living in the UK and you aren't from the EEA then the visa is required is an 'EEA family permit'
On the other hand, if the spouse has refugee status or humanitarian protection the a Family Renuion visa is appropriate
And if the spouse has a Tier 2 visa then you are supposed to apply as the dependant of a Tier 2 (General) visa holder.
And if the spouse has a Tier 4 student visa then you should apply as a dependant of a Tier 4 visa holder.
Ultimately, a wrong choice or misinterpretation might be the difference between getting a visa or being denied one.
Truth is, there are no assurances. Provided you're willing to try and try again you will certainly achieve success – even in the longer run. And if all else fails – well, at least home is where the heart is.
Other Articles that you may find helpful