This post was most recently updated on September 12th, 2017
Whether it is for your home, car, pet or life; we have come to learn – especially through devastatingly painful real-life situations, that insurance is no luxury. If anything, it may just be as important as your need to acquire basic necessities.
But the option of negotiation is completely out of the question where a Super Visa is concerned. So what do you do when you are stuck between a rock and a hard place;  what if Super Visa Insurance like, yesterday?
Tips for Buying the Best Super Visa Insurance
You might get lost in the haze of options; when in search of the best Super Visa Insurance. Especially with the various policies, you might have to wade through to find the best option available for your situation; So, here are a few quick tips to get you in and out quickly;
Investigate about Super Visa Insurance Providers:
As the rule is for just about everything else; first-hand information on any subject is your best bet at getting anything done right. So do a little home work; maybe even request some quotes online and over the phone, and then compare the coverage prices available to you. But make sure that the quotes aren't all that you're looking at when you make a purchase.  Do well to do a comparison of the policies as well to see which works best for you.
Remember how the customer is always right? Well, they are also always the most reliable source of information as well. So, don't restrict yourself to just the providers and their agents; ask other Super Visa Insurance users who they recommend.
The worse mistake you can possibly make in life – besides lying to your lawyer and doctor; is to lie to your insurance broker or service provider. This is just as important as asking the right questions; make sure to let your insurance agent know every detail about your trip; include your past health history and any risky activities you want to enagage in.
While it helps to compare rates so that you can pick one that won't be too much of a rip-off; also remember that you only get what you pay for. So if you need to pay a premium for a quality coverage – well, you only live once.
Insure As Many as You Can at Once:
If both parents and/or grandparents are traveling all at once; it may help the cost to insure them all at once. And even if it doesn't, it helps to lighten the paper work, so why not?
Super Visa Insurance Providers You should Consider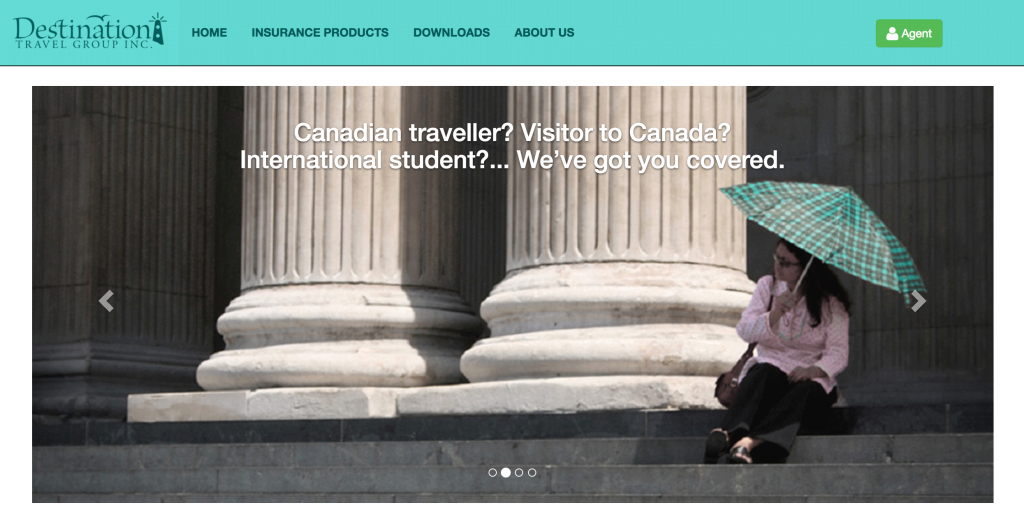 Destination Canada provides coverage for individuals who are – at least 15 days old. Thus, this would cover parents and grandparents. Provided they do not have any provincial or territorial health insurance plan in Canada; and are in good state of health with no reason to seek medical attention.
Available plans range provide $10,000 – $300,000 coverage from prices as low as 850.45CAD
According to the provisions of the plan, if you incur expenses for emergency hospital and emergency care during the period of the coverage, the insurer will pay up to the sum insured – this is of course, in line with the limits and exceptions.
Coverage options exclude those who have been diagnosed with a terminal sickness including AIDS/HIV positive or been prescribed/used home oxygen during the last 12 months, diagnosed with/received treatment for a congestive heart failure, had a major organ transplantation, Has been treated with kidney dialysis within the last 12 months.
View details of the policy here
Tugo Travel Insurance provides coverage for  individuals who are at least 14 days old and have not yet reached the age of 90 at the time of your application for TU insurance policy.
They also have to be legally admissible to Canada as a Visitor/Tourist, Foreign Worker, New Immigrant or Returning Canadian, who are not eligible for the Provincial Health Care Coverage at the time of entry to Canada. Provided they do not travel against the advice of a physician – they would be suitable for a Super Visa Insurance coverage with TuGo.
This insurance is available in aggregate benefits limits in increments of $10,000 up to a maximum of $300,000 per insured person from 1211.80 CAD.
Eligibility provisions are typical of most of the other insurance providers, and the company will pay you or any physician of your choice all eligible medical expenses up to the maximum aggregate limit if you require hospitalization or medical treatment due to an emergency while traveling outside your country of residence.
View the TuGo Insurance Policy Wording Here
Travelance provides Super Visa Insurance coverage for parents and grandparents provided they do not have a medical condition for which a physician has advised not to travel,  and are not under 14 days old or over 85 years old. Exceptions will also apply if they have been diagnosed with or received treatment for: Congestive heart failure, AIDS or HIV, Alzheimer's or any dementia, pancreatic or liver cancer, any kind of metastatic cancer, a condition requiring a bone marrow or organ transplant.
Coverage plans begin from 1149.75 CAD and provide coverage from $10,000 up to a maximum of $300,000 per insured person and provide coverage for all medical expenses incurred outside the country of residence.
Like other insurance providers, Allianz Global Assistance will not provide insurance coverage for people in these categories; who have been diagnosed with or has had an episode of congestive heart failure. Or has had a lung condition for which, in the last 12 months, if they have been prescribed or use home oxygen.  Or has received treatment for any cancer in the past 3 months, have received or is awaiting a bone marrow or major organ transplant, have been diagnosed with or received treatment for kidney disease requiring dialysis, have been diagnosed with an aneurysm that has not been repaired,  Requires assistance with daily living.
Plans begin from 1070.91 CAD and also provide coverage worth 10,000 up to a maximum of $300,000 per insured person.
Take note that Super Visa insurance for parents and grandparents only provides medical emergency-based coverage. The plan does not include physical examinations, routine doctor and clinic visits as well as other associated cases.